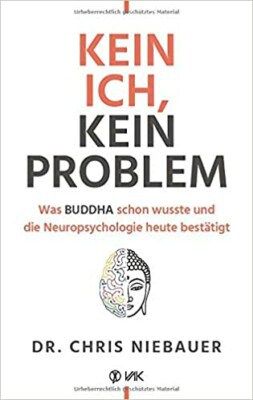 No I, no problem – What Buddha already knew and neuropsychology today confirms
The "I" forms the center of our self-definition in our Western culture and navigates us through our experience of the world. But what if this "Pilot" would be nothing more than an invention of our left brain?
The "so-called" I and its function
Our so-called "I" formed by our left brain is convinced to control our physical body.
It directs our thoughts and feelings and considers its interpretation of reality as the only, incontrovertible truth.
It categorizes, compares and evaluates, divides our lives into present, future and past, good and bad.
Briefly: It has us completely in its grip. So far, however, no evidence has been provided by neuroscience that such a "I" exists at all.
Only an illusion?
In Buddhism, the idea of "I" deeply distrusted. The dogma of the Anatta – the "Not-Self" – teaches that our ego only comes into being through the process of thinking, and in fact does not exist –
similar to a mirage, which we believe to be real, although it is a pure illusion.
It deludes us instead of letting us see the truth and creates unnecessary mental suffering that has no basis in reality. Only when we detach ourselves from this illusionary ego and look at it from the outside, we can perceive things as they really are.
The neuropsychologist Chris Niebauer explains how the left hemisphere of the brain this "Ego illusion"This book explains why the right hemisphere of the brain also has something to say and shows that the centuries-old teachings of Buddhism have always known what science is finally recognizing today.
Practical exercises and thought experiments finally help us to get to the bottom of our ego's strategies.
Dr. Chris Niebauer
No ego, no problem
What Buddha already knew and neuropsychology confirms today
VAK Publishing Ltd
1. Edition 2020
Paperback, 192 pages
Format: 13,5 x 21,5 cm
ISBN 978-3-86731-240-0
More informationand ordering
The author
Dr. Chris Niebauer completed his PhD in cognitive neuropsychology at the University of Toledo (Ohio, USA), where he specialized in the study of the left hemisphere of the brain.
He has led studies in the exploration of consciousness, right- and left-handedness, belief, and self-awareness, and is now a private lecturer in the psychology of consciousness at Slippery Rock University of Pennsylvania.
When he is not teaching, he enjoys playing guitar, spending time with his family and working on new books.