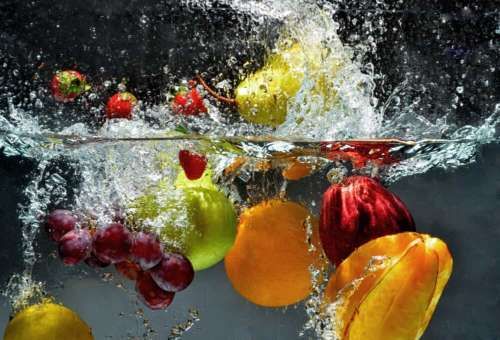 What is behind the Infused Water trend??
Most of us are aware of the importance of drinking enough water (z.B. to drink infused water). However, water is not the number one taste carrier. That's why many people turn to unhealthy and high-calorie drinks. But you can spice up water and give the healthy water a really good taste.
Add some flavor to your water with lemon
Add some squeezed lemon to your water and see for yourself: it tastes much better and not so bland.
You can achieve a refreshing taste by adding cucumber to the water as well as lemon. Cut a few slices of each and put them in your water, it tastes really refreshing and looks better.
Original, noble and very tasty water achieve a few drops of rose water or orange blossoms.
Cool and fruity: add frozen fruit to your water. These cool the originally rather tasteless water and afterwards you can eat the fruit with pleasure.
Enjoy your water cold with a straw
The "wet secret" is ice water. Properly chilled water actually tastes significantly better than water at room temperature. Some also drink their water with a straw and swear that the water then tastes better.
Drinking a lot of water often fails because of the taste
Water is healthy and very important for the organism. Therefore one should drink much water. However, many people find it very difficult to get by with just water. The main reason is and will remain the taste. Water is often presented as tasteless or boring tasting. As a result, many people resort to completely over-sugared soft drinks, although health portals such as Vital Fit & Healthy about the negative consequences.
Insider tip and the trend par excellence: Infused Water
Water does not have to be tasteless. A great possibility is the production of so-called Infused Water. This gives your water a unique flavor and tempts you to finally drink more of the healthy and vital substance.
© photographee.eu by depositphotos.com
What is Infused Water?
"Infused water" refers to still water infused with different flavors. The water gets a light taste and does not taste like a soft drink or juice. For numerous people, this small difference is already enough to make drinking easier for them.
In the trade such beverages are already offered for decades. However, these are often enriched with artificial flavors, which does not necessarily make the water healthy or even healthier. Infused water takes a different approach. One puts natural taste suppliers in water and reaches with the fact that these deliver their taste. After several hours you can enjoy the water, which will have absorbed some of the flavors.
Infused water is predominantly made with fruit, especially lemons, oranges and apple. However, vegetables can also be added to infused water. Particularly popular and widespread in this regard is the water cucumber. Herbs are also excellent for spicing up bland water and giving it a pleasant taste. Mint is in first place among these flavors.
How to make delicious infused water
Making Infused Water is quick and easy. So you don't have to memorize an infinitely long recipe, which takes longer than drinking it. In the end, it is only a matter of preparing the appropriate ingredients. Then you put them into a vessel and fill it up with water afterwards.
The preparation depends on the ingredients used. Of course, you should also wash off the food used when making a tasty infused water. Then you cut them into small pieces so that they give off more flavor. Afterwards, fill the container with water and let the water infuse well. An infusion time of about four hours is recommended. The longer the water is infused, the better!
Several infusions are possible
Often beginners make the mistake of throwing away the pickled food after they have taken out the water. Actually a pity, because several infusions are possible. That is, you add fresh water several times. It depends on the ingredients how many times you can repeat this procedure from the beginning. Three passes are usually possible on average.